Well, it's been a busy September and October is looking equally busy. I had quite a good response to my line after Mixer Match and then had a wonderful time at the Belmont Street Fair. I'm still a little behind updating the online shop with new items, but rest assured there will be new things listed soon.
On to the wonderful news - you'll be seeing our jewelry in shops around Portland soon. In fact, you can buy select items from the new line at
Cargo
in NW Portland (the Pearl district) as of this week! And soon you'll be able to find us at Mag-Big in SE and Boys Fort and Flora in SW/Downtown Portland.
I'll be posting updates about local venues as they become available and you can check the
Shop Inkstrand
tag for details and locations.
And lastly, October brings my favorite yearly event -
Steamcon
!
This year's theme is 20,000 Leagues Under the Sea and I'm working on some new costumes. I considered selling at Steamcon this year, but I enjoy going to the event more than anything else, so I've decided to be an attendee instead.
However, I did participate in the festivities by including a little promo for the guest goodie bags. I spent all weekend making these little cards - the design is based on an old apothecary label - but it was worth it. I snapped this photo before sending them all off to a packing party.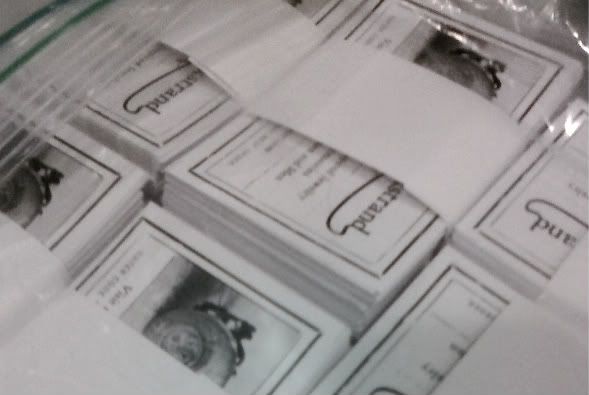 It might not look like a lot, but 3,171 cards is a lot of printing and cutting.
So that's the update. There is so much going on and the holiday season isn't even here yet. Hopefully all this activity won't keep me away from the blog so long this time. Plus, I have a few tutorials, reviews and some giveaways in the works - so stay tuned.
Happy Crafting!