Halloween (my favorite time of the year) is right around the corner, which means a new sewing project. Hooray! This year I've decided to go as Little Red Riding-hood with a Steampunk/Victorian twist.
I'm not entirely sure what the full outfit will look like, but the essential riding hood will be a hooded long-sleeved shrug [a variation of my previous "swap" shrug] with a detachable cape.
Here are a rough sketch of what I'm planning: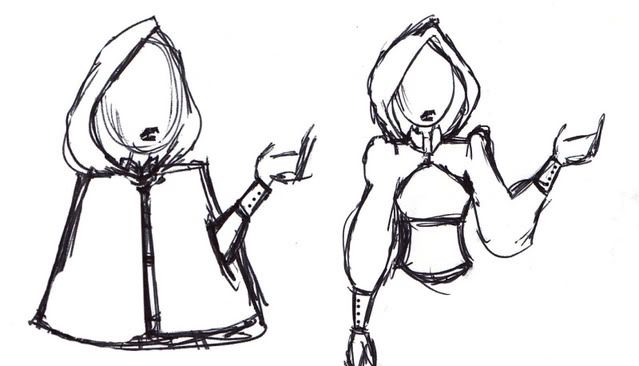 As for progress, I've constructed the hood, collar and parts of the jacket. I hope to finish the shrug tonight and I'll post pictures when I do. The cape should be done this weekend.
Quick Etsy update: I've had 4 sales so far--hooray! I'm pretty excited considering I haven't had time to publicize yet and the shop is still unfinished. Seriously, moving has really put a damper on getting Inkstrand up to its full potential. But I'm done moving, so things should improve. I'll post a more detailed update later.
Til next time!