This month I participated in a sewing swap and decided to make a velvet shrug for my partner. It required drafting a pattern from scratch and utilizing a lot of new skills, but it came out pretty nicely.
As modeled by my sister: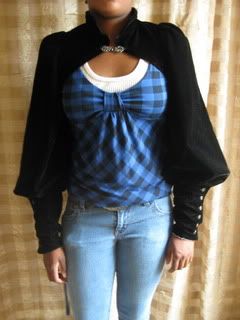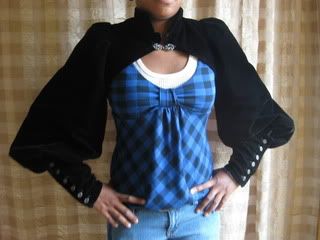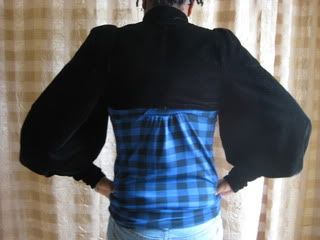 As modeled by my swap partner (once she recieved it):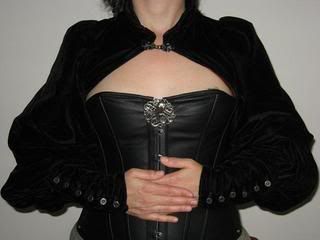 The shrug was made with black velvet and lined with red lining [left over from the quidditch robes]. It features a pewter colored clasp at the neck and a series of buttons along a long cuff to create the mutton chop styled sleeves. My partner was pleased as punch and so was I [in fact I'm working a burgundy version for myself].
As this was my first time playing around with ruffled and gathered sleeves [especially of my own pattern], so I had to look to a few resources for help:
Modern Pattern Desig, Chapter 4: Sleeve patterns
- goes into great detail about how to modify the shape of patterns for a certain sleeve shape. Incredibly handy.
The Sewing Book by Alison Smith
- the book is an encyclopedia of sewing methods and techniques. I particularly like it because of the photographic steps and the clear instructions. Definitely a valuable asset.
Oh...and there is a chance I will add the shrug to my Etsy shop after a bit of the sizing is figured out. I'll keep you posted.