So I've always hated shopping for dresses. My particular figure shape(I'm a busty girl) has always made it hard to buy anything but separates. And affordable dresses are getting more and more lazy [ie they're terrible looking, flimsy or ill fitting]. Since I really can't spend $100+ to look hot for one night, I've decided to take it into my own hands.
Let the games begin.
I have about 25 hours (ending midnight 12/30) to make a New Year's Eve outfit
Budget: $40
Goal: Something fitted, hourglass accentuating and well made (hopefully looking better than what the stores can offer for the same amount)
Supplies: Whatever Joann's Fabrics has in their Red Tag section (now 50% off--go go and acquire fabric people!) and notions
Tools: A Singer 5050c, paper tape dummy (fit to my size), the usual tools (scissors, seam ripper, ruler, etc) and a lot of moxie
---
7:12pm
Making it work.
So I've selected my fabric as shown below: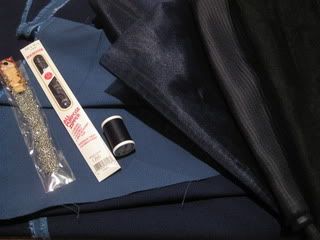 Details--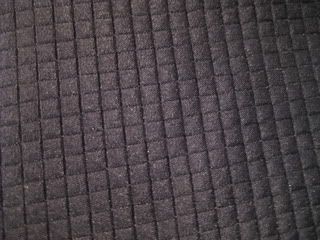 (A)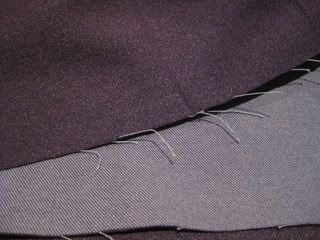 (B)
(C)
Here's what I got for $35.77 ($33.06 without tax):
1 yard of black poly with square print (A)
4 yards double sided blue denim blend (B--way more blue, see main photo)
4 yards of sheer dark blue material (it's beauty hardly shows in the photo)
1 yard of black nylon tulle
1 16" navy blue zipper (C)
1 spool of navy blue thread (C)
76" of metal chain (C)
---
The sewing clock officially starts at 9pm. So I get a little bit of sketching time before then.
Next
: Sketches & Inspiration