So I've been lucky to have some X-mas sales (much to my surprise)...still not going to press too hard with promotions this holiday season since I'm just starting out. But I've been educating myself on promotions and such and have even gotten acquainted with
Google Analytics
, which is pretty darn dandy if you haven't use it yet.
And one thing I've learned is that people really do love mustaches. Or at least they like my mustache ring: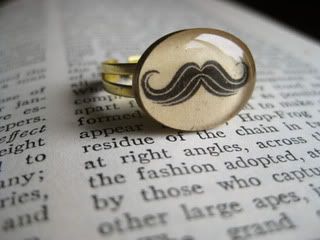 This lil guy here...
In fact I posted him one day and he sold in under 2 hours. Talk about a shocker. Like other items that have proven themselves, he'll become a stock item so I can always have it on hand.
Anywho that's all for now. I shall do a post about my visit to a Portland Craft fair next...been in the works, but unfortunately got waylaid by life, plans and other such pesky things.
In the meanwhile, enjoy some of my recent favorites from Etsy:
Happy Crafting!