So it's been busy. So busy I haven't even had the time to take photos to show how busy I am (don't worry they're coming). It's been both good and bad, but boy has it been challenging.
I have pretty much everything I need for Sunday (tents, card imprinter, packaging, etc), so right now the focus is on the inventory and getting it ready for the event.
And that's where I've encountered some bumps in the road, the biggest being that my favorite brass supplier, General Bead, just closed it's national location in San Diego. Thankfully the San Francisco location is still open, but I'm not sure they'll even keep selling the supplies I need - like tons of brass bezels.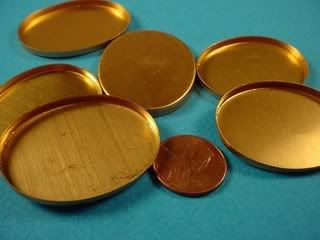 These guys. Yes, you can get them on Etsy, but not at the volume/price prefer. If you have a supplier you'd like to recommend, I'd greatly appreciate it.
This is not the first time that my source of supplies has disappeared, had to close shop or just stopped selling something I depended on. Frankly it seems that the current economy is making procuring wholesale jewelry supplies in the US harder and harder without having to look overseas.
Sigh...