So October is over and November is here with a plethora of things, so I'm going to be one busy lady. Hopefully I can balance everything, but I must apologize if I become a bit absent before the holiday season.
So what will I be doing?
NaNoWriMo
(also known as National Novel Writing Month)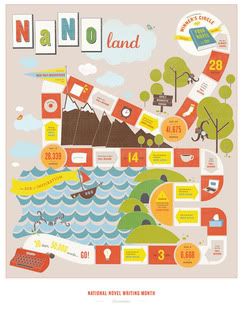 A month long writing competition where you challenge yourself and others to write 50,000 words in 30 days. I had slightly late start this year, but it should be a lot of fun. I'm going to be writing a Steampunk NaNo this year very loosely based on Red Ridinghood and involving a variety of mayhem and adventure involving a particularly difficult delivery. You can follow my progress
on the NaNoWriMo site
or on my
NaNo blog
.
Don't have the time to write, but want to be involved - consider sponsoring my novel. Like a marathon runner (without all that pesky running) I'm writing for donations, which will help bring creative writing to young people all over the country - a truly worthy cause. My goal is $250, but anything helps -
donate here
!
And if you're low on cash, consider one of these
options
.
Steamcon II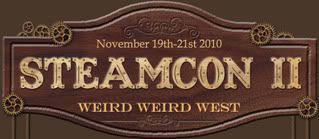 Seattle opens it's doors to Steampunks for a second year with a three day convention of concerts, fashion shows, costuming panels and more. The theme this year is Weird Weird West! I missed it last year, so I cannot wait to attend this time. My partner in crime and I hope to make an appearance sporting some of my own designs. I shall post sketches and progress photos as that all goes along.
Le holidays...
And finally I have begun prepping for the holidays. Of course keeping up with Etsy's fabulous Holiday Boot Camp has helped to get me into seasonal selling shape. Visions of pine trees and menorahs are already dancing in my head as I come up with new things to fill my shop. There will be more about that in the next week or so, but I'm definitely thinking about it.
Happy Crafting!